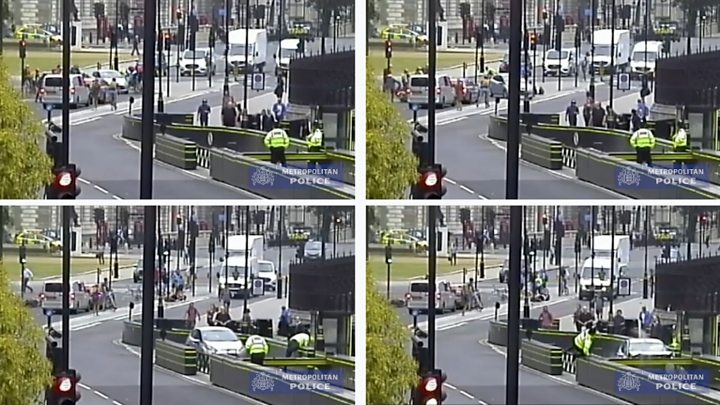 A man who drove at cyclists and police officers outside the Houses of Parliament has been found guilty of attempted murder.
Student Salih Khater, 30, aimed his car at members of the public before swerving towards the officers in Parliament Square on 14 August 2018.
The Old Bailey heard Khater wanted to cause maximum carnage and it was "miraculous" that no-one was killed.
He had denied two counts of attempted murder.
CCTV of the attack shows Khater, of Highgate Street, Birmingham, plough his Ford Fiesta into a pedestrian and a group of cyclists who had stopped at a red light.
He then careers into a security lane and crashes into barriers as two police officers jump out of the way.
Khater claimed he had gone to London to get a visa from the Sudanese embassy, but "got lost" around Westminster and panicked.
The jury deliberated over two days before rejecting his explanation and finding him guilty.
Mrs Justice McGowan remanded him into custody to be sentenced on October 7, and ordered pre-sentence reports to help her determine Khater's potential dangerousness.
Prosecutor Alison Morgan QC said Khater's attack was "premeditated and deliberate".
She said: "He caused widespread fear and chaos but miraculously, and contrary to his intentions, he did not kill anyone that day.
Ms Morgan told jurors Khater's reason for the attack was unclear, but targeting officers guarding the Palace of Westminster suggested a possible "terrorist motive".
dishwasher repairs epsom

Source link